Water Safety Cards
Orders are accepted throughout the year. We request shipping costs be covered with a donation, if possible.
---
Water Safety Signage
Order water safety signage for your aquatic facility, and help raise water safety awareness among your patrons. You can visit BuildASign to order our water safety signage and BuildASign will donate a portion of every sign sold to Colin's Hope.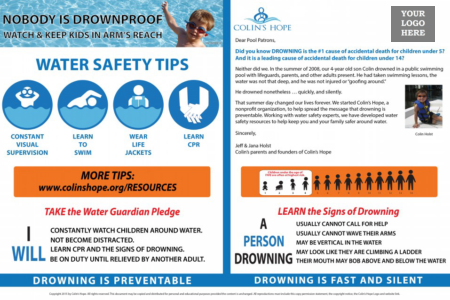 Your logo can be added for a customized look for your location.
Spanish versions are available.
---
Safer Swimmer Buoy
The bright orange Safer Swimmer buoy helps swimmers be noticed in open water environments. Inflate it prior to your swim, and attach it around your waist. It will not slow you down. This buoy can also hold small essentials such as keys, an inhaler, credit cards, etc. Please note that while this can be used as an emergency flotation device, it is not meant to function as a life jacket and should only be used by experienced open water swimmers.
Price: $30 (Shipping: $5)
To order your Safer Swimmer Buoy please visit our donation page and make a $30 donation. Be sure to specify in the comment section this is for a buoy. We will then be in contact with you regarding selecting a pickup place. If you would like to have the buoy shipped to you please donate $35 and we will ship it to the billing address or wherever you specify in the comment section.
Make Safer Swimmer Buoy Donation