Location:
19831 Lakehurst Loop | Spicewood
[view map]
Details: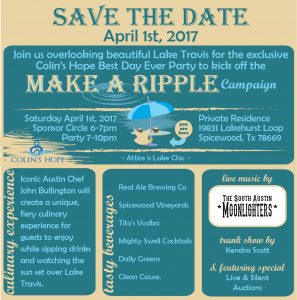 Colin's Hope is a nonprofit whose mission is to raise water safety awareness to prevent children from drowning.
We are excited to announce the Best Day Ever Party to Prevent Drowning on the evening of April 1, 2017 at the beautiful custom home of Jason and Joanna Crabtree on Lake Travis. The party is the perfect chance for Colin's Hope to kickoff our 2017 Water Safety Awareness campaign. We are seeking sponsors and guests and ask you to join us. Download the Best Day Ever Party Sponsor Form here.
Best Day Ever Party GOALS: 
Provide a stellar experience while highlighting our mission and showcasing sponsors.
Raise essential funds ($100,000 goal) to continue to replicate and expand our preschool swim program, raise awareness and extend further support for Colin's Hope beyond Central Texas.
Best Day Ever Party DETAILS: Exclusive Party. Limited to 250 guests.
Sponsor Circle Cocktail Hour (6:00-7:00PM)
Live music from the South Austin Moonlighters
Spectacular food experience by Renowned Chef John Bullington
A Kendra Scott Trunk Show and silent auction
Program with a Fund-a-Need and Live auction featuring destination vacations and art pieces
WHY SHOULD YOU SUPPORT COLIN'S HOPE?
Last year, 107 Texas children lost their lives to a fatal drowning, while many more survived a non­fatal drowning. Texas leads the nation in the number of child drownings and drowning is the number 1 cause of accidental death for children under 5, yet drowning is preventable.
Colin's Hope was founded in 2008 to honor Colin Holst, a 4 year old, who drowned in an Austin public lifeguarded pool. Colin's Hope is now a leader in local, state, and National drowning prevention efforts. Our programs have been proven to increase children's water safety knowledge and improve their swimming skills.  We need supporters like you to invest in us so that we can make an even bigger impact on children and families to prevent drowning. Interested in attending? Download the Best Day Ever Party Sponsor Form here. Thank you for your consideration, and as Colin used to say, let's make it "The Best Day Ever!"
THANK YOU  to our Best Day Ever Party Sponsors!
ENTERTAINMENT SPONSOR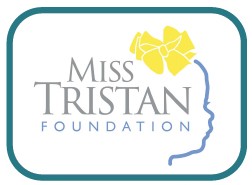 VENUE SPONSOR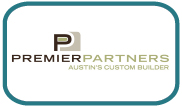 WATER SAFETY ALLIANCE SPONSORS


BEVERAGE SPONSORS
THANK YOU TO THE BEST DAY EVER PARTY EVENT MANAGERS

---
Sign Up
---
Share this page